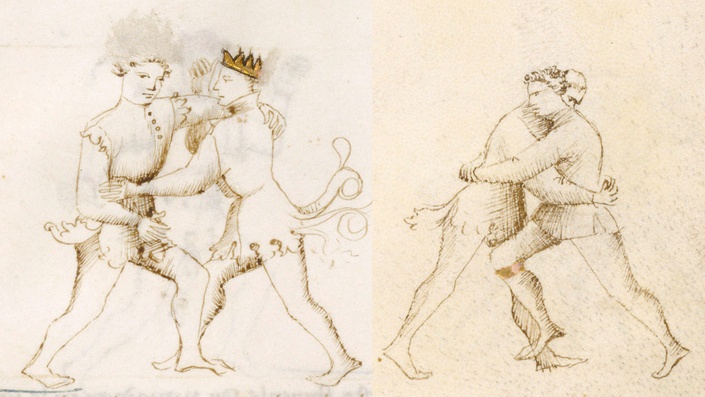 Medieval Wrestling: the Abrazare of Fiore dei Liberi
learn medieval wrestling with Guy Windsor and Jessica Finley
Enroll in Course
The great medieval martial arts master Fiore dei Liberi bases his entire system of knightly combat, Armizare (the Art of Arms) on wrestling. His treatise Il Fior di Battaglia begins with four guards, and twenty plays of Abrazare, wrestling.
Join Guy Windsor and Jessica Finley (author of the book Medieval Wrestling) to learn these critically important techniques, as well as how to warm up, the mechanics and footwork, how to train, and how to fall.
We also include extensive safety advice, additional wrestling material drawn from Fiore's dagger and longsword plays, and material drawn from medieval German sources. This comprehensive course will give you the solid foundation that Fiore intended, with a thorough academic and practical examination of the material. Every play includes a transcription and translation of Fiore's words, so you can see exactly where the technical instruction is coming from.
We have included everything you need (other than a partner and a place to practice) to learn Fiore's Abrazare plays, and to develop some wrestling skill. Every student comes to the course with different goals, skills, and limitations, so we have organised the course such that you can create the class you need right now from the materials on offer.
Someone with a purely academic interest could simply watch all of the technical videos in sections 2-7 without practising at all, but we have assumed that you want the course to guide you in developing the ability to apply the techniques.
You certainly can just work through all the videos in order, but that will only be optimal for a limited subset of the students enrolled. So here is what you should do.
Start with the Introduction section. That is not optional, because it contains the safety briefing, and instruction on how to fall.
Work through Section 2: plays 1-6. This will give you a basic grounding in the basic choreography of these fundamental plays from Fiore's system.
Then decide whether you want to add more breadth, or more depth. Breadth is learning new techniques; depth is developing skill in techniques you already know.
For depth, study Section 8: How to Train.
For breadth, keep working through the course as written (so, Section 3: plays 7-16; Section 4: the Bastoncello, etc.).
Then build each training session according to this pattern:
Warm up. Be mindful of any limitations, and go gently.
Play a little, such as with the Standing Step Drill (08.01) or the Unarmed Flowdrill (01.08), or any of the games from Section 8.06
Add any breadth you want (such as going to the next technical video)
Play a little more, with games from Section 8.
Repeat steps 3-4 until you run out of time
Add conditioning training at the end if you need to get fitter faster (strength, stamina, etc.), using the Solo Training content in section 09.03.
When you've completed the whole course, the work really starts. Pay special attention to the video on the Optimal Rate of Failure (08.02) and apply that mode of practice to the plays and techniques you have learned. Gradually incorporate more intense play.
Above all, always:
FINISH TRAINING HEALTHIER THAN YOU STARTED IT
Welcome to the Art of Arms!
Your Instructor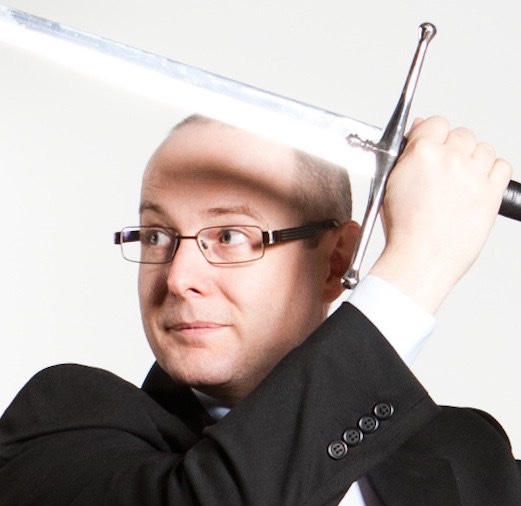 I have been training martial arts for 30 years, and teaching swordsmanship professionally since I founded The School of European Swordsmanship in 2001. The School has branches and study groups all over the world, so I have taught thousands of students, from all sorts of backgrounds and cultures. My books include The Swordsman's Companion, The Duellist's Companion, The Medieval Dagger, The Medieval Longsword, The Theory and Practice of Historical Martial Arts, and The Swordsman's Quick Guide series of ebooks along with many others. It's my job to help you achieve your goals. I do this by teaching in person, through my books, and through these online courses.
Frequently Asked Questions
When does the course start and finish?
The course starts now and never ends! It is a completely self-paced online course - you decide when you start and when you finish.
How long do I have access to the course?
How does lifetime access sound? After enrolling, you have unlimited access to this course for as long as you like - across any and all devices you own.
What if I am unhappy with the course?
We would never want you to be unhappy! If you are unsatisfied with your purchase, contact us in the first 30 days and we will give you a full refund.